Author: Louise O'Bryan from Houzz
Summer is on its way, hooray we hear your cheer! But so are those blisteringly hot days. So how do you create some temporary shade in your outdoor space that will last the season, but won't involve a costly building project? These clever ideas and simple solutions are quick to knock up, friendly on the pocket, and will ensure your exterior will beat those harsh rays, as well as looking extremely welcoming. Some of them are even rental-friendly!
Drape some breezy fabrics
Romantic and enchanting – this beautiful set-up can easily be achieved by draping a lightweight fabric over bamboo poles. Pick pretty opaque fabrics and you'll cast gently diffused sunlight onto your seating area. What's more, this wonderful setting would make the perfect party spot, particularly with fairy lights strung up under the billowing fabric.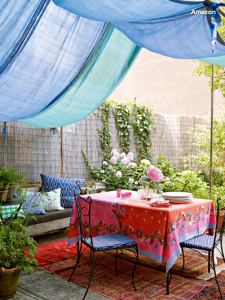 Set sail for some relaxation
Slightly more work is required to fit shade sails, as they need secure hooks fitted to a wall, pole or fence. However, they're still a low-cost, temporary alternative to more permanent structures such as pergolas. Most sails are waterproof and can be stored away during the wetter months so they remain looking their best during sunnier times.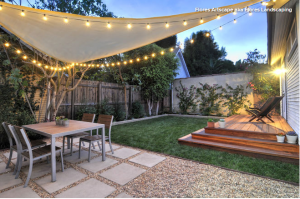 Pop up a beach umbrella
We can't forget to mention the ultimate temporary shade structure in our list, particularly as these days there are many more variations on the traditional garden umbrella. Check out the tilting designs that can be fixed to the ground to make them more wind-resistant…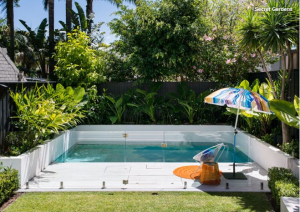 … or try a large-scale option such as this one, which can shade a vast terrace or patio, thereby encouraging a cosy and intimate outdoor living area.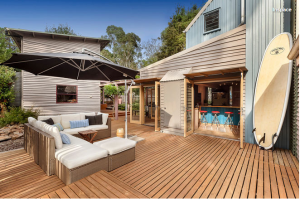 Maximise what you've already got
Natural shade from large trees and bushes is also an obvious solution to beating the rays and creating dappled sunlight. But opportunities to maximise this shade can often be overlooked if it's not near the house. You may find that the back of the garden, or even the side of your house, gets the most shade, so be open to re-positioning your alfresco entertaining spot to another area during the summer months.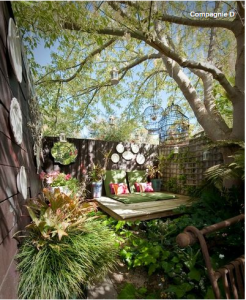 Try hanging wide-reaching plants
If you don't have any trees or tall foliage to offer natural shade, try constructing your own by hanging bushy or large-leaved plants, such as ferns and staghorns, around your seating area to diffuse or block the sunlight. Not only do hanging plants add a tranquil element to an outdoor area, they'll create a garden 'ceiling' that will draw the eye upwards, increasing the sense of space.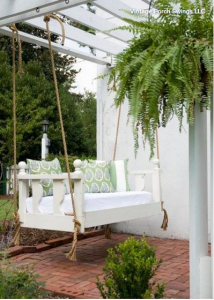 Wall-planted staghorns can offer shade under their enormous leaves once they are fully grown.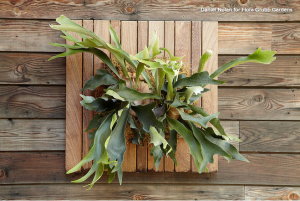 Pretty it up with paper lanterns
Another inexpensive yet effective shade solution is to string up rows of paper lanterns. Sure, this could be a time-consuming project and could get fiddly, but the final result will be truly stunning. And the more lanterns you hang, the more shade you'll encourage. Take the idea further and hang solar-powered LED lanterns, such as Ikea's range, and you can extend your party into the evening.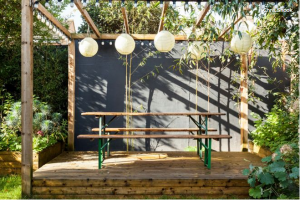 Tip: Dismantle if rain is expected or you'll have a soggy mess on your hands.
Of course, if you have the space to hang up billowing fabrics and paper lanterns together, go for it. The effect will be even more mesmerising and magical, not to mention cool and refreshing.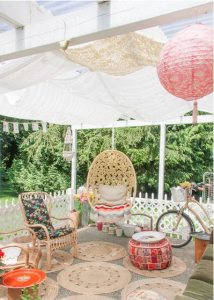 Look for large-scale garden pendants
Take the trend for show-stopping pendants out into the garden and you'll have a natural sun block right across your dining table. Look out for large-scale designs that offer as much shade as possible and hang more than one for a greater effect.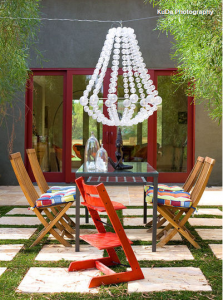 This story originally appeared on Houzz.